Ever wondered what the best way to clean stubborn soap scum, mould and grime from glass is?
There are many harsh chemicals available today that will do the job, however they can cause eye and skin irritation and even affect your breathing.
Using Extreme Cleaner is the best and most effective method. Simply apply Extreme Cleaner to the shower screen with a cloth then let it work its magic for 5-10 minutes. Come back later and sponge it away, leaving clear, clean glass behind. Revitalise the whole bathroom by using Extreme Cleaner on the sink or toilet.
Kills bacteria and removes dirt and stains. Kills bacteria that causes offensive smells. Amazingly versatile and can be used on all hard surfaces. Please use carefully around fabric and avoid contact with fabrics as it contains bleach.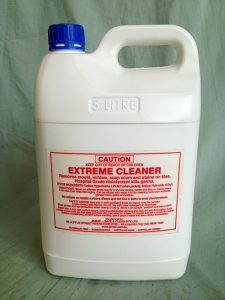 Designed to remove mould and stains from hard surfaces. Particularly useful around the sink area. Great to use on toilet and shower areas. Safe for septic tanks.
Wear gloves and avoid contact with eyes and skin.
We hope this post has been helpful. Let us know on our Facebook Page Jamac Cleaning Supplies